Buy or Sell Your Home in Schererville with Lincoln-Way Realty - Your Trusted Partner!
Schererville, Indiana is a thriving community located in the northwest corner of the state. It is known for its friendly atmosphere, excellent schools, and plentiful parks and outdoor recreational opportunities. Residents of Schererville can enjoy a wide variety of local restaurants, shops, and entertainment venues, as well as easy access to nearby cities like Chicago. Some of the most popular attractions in Schererville include the Redar Park, a 38-acre park featuring walking trails, picnic areas, and sports fields, and the Schererville Golf Course, a beautiful 18-hole golf course surrounded by lush greenery. Whether you're looking for a fun day out with the family or a peaceful retreat in nature, Schererville has something for everyone to enjoy.
Whether you're looking to move out or move into Schererville, Indiana, you can count on Lincoln-Way Realty to make the process as smooth and stress-free as possible. Their experienced agents have a deep knowledge of the local market and can help you find the perfect home that meets your unique needs and preferences.
The Go-To Choice for Home Buyers and Sellers in Schererville, Indiana
Lincoln-Way Realty is the go-to real estate agency for buyers and sellers in Schererville, Indiana. They offer a wide range of services designed to help clients navigate the local market with ease and confidence. For sellers, Lincoln-Way Realty provides unbeatable value with their flat $2,500 listing fee. This means that you can sell your home and keep more of the profits without sacrificing quality service. Their experienced agents will work closely with you to develop a personalized marketing strategy that maximizes your home's exposure and attracts the right buyers.
For buyers, Lincoln-Way Realty's team of experts are dedicated to helping you find your dream home in St. John. They know the local market inside and out and will work tirelessly to help you find a property that meets your unique needs and preferences. From the initial search to closing the deal, Team Siwinski will be with you every step of the way to ensure a smooth and stress-free experience.
Whether you're buying or selling a home in St. John, Indiana, Lincoln-Way Realty is here to help. With their personalized approach and unbeatable services, you can trust them to deliver outstanding results and make your real estate journey a breeze!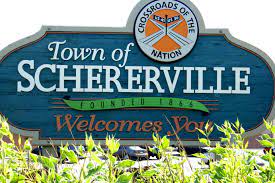 Team Siwinski is Ready To Get Started!
If you're looking to buy or sell a home in St. John, Schererville, or the surrounding areas, Lincoln-Way Realty is the right choice for you. Our team of experienced agents is committed to providing you with personalized service and expert guidance throughout the entire real estate process. From finding your dream home to negotiating the best deal, we're here to help you every step of the way. Don't wait to make your real estate dreams a reality. Contact us today to get started and experience the difference that Lincoln-Way Realty can make for you!