The Trusted Real Estate Agent for Buyers and Sellers in Tinley Park, Illinois
Tinley Park is a suburban village located in Cook County, Illinois, with a population of approximately 55,000 people. For residents, there are plenty of activities to enjoy in Tinley Park. The village has a well-maintained park district that offers a variety of outdoor recreational activities, including hiking, biking, and fishing. In addition, the Hollywood Casino Amphitheatre, located in Tinley Park, hosts a variety of concerts and events throughout the year. For those interested in shopping, the Tinley Park downtown area features a range of boutiques, shops, and restaurants. The village also hosts an annual street fair known as "Tinley Park Irish Parade and Festival" that celebrates Irish culture and heritage. Overall, Tinley Park offers a vibrant community that provides a range of activities and amenities for its residents.
For all your real estate needs, whether you are buying or selling your home in Tinley Park, Illinois, you can rely on Lincoln-Way Realty's expertise and services.
$2,500 Flat Listing Fee for Sellers in Tinley Park, Illinois!
Lincoln-Way Realty is a full-service real estate agency that proudly serves Tinley Park, Illinois. The agency is committed to providing exceptional services to both buyers and sellers. For sellers, they offer a flat listing fee of $2,500, which saves homeowners thousands of dollars in commission fees. Lincoln-Way Realty's team of experienced agents is knowledgeable about the local real estate market and will provide you with expert guidance throughout the selling process. They will handle all the paperwork, negotiations, and scheduling of inspections to ensure a smooth and hassle-free transaction.
For buyers, Lincoln-Way Realty offers personalized assistance to help them find their dream home. Whether you are a first-time homebuyer or a seasoned investor, their team will work tirelessly to find a property that fits your needs and budget. They understand that buying a home can be overwhelming, and they will be with you every step of the way. From finding the right neighborhood to negotiating the best price, Lincoln-Way Realty's agents will be your trusted partner throughout the entire home-buying process. Overall, Lincoln-Way Realty's commitment to delivering exceptional services has earned them a reputation as a trusted and reliable real estate agency in Tinley Park.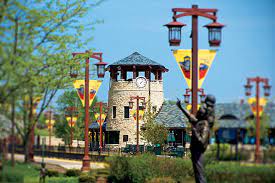 Looking For Your Dream Home? Call Lincoln-Way Realty!
Whether you are a buyer or seller, getting started with Lincoln-Way Realty's real estate services is easy! So, whether you're ready to sell or looking for your next home, contact Lincoln-Way Realty today to get started!