Looking to Buy or Sell a Home in New Lenox, IL? Trust Lincoln-Way Realty for Expert Guidance and Support!
New Lenox, Illinois is a vibrant and growing city located in Will County, just 36 miles southwest of Chicago. The city is home to a variety of parks and recreational facilities, including the beautiful Haines Wayside Park, which offers walking trails, picnic areas, and a playground. The city also boasts several excellent restaurants, shopping centers, and entertainment venues, including the Silver Cross Field, which hosts regular concerts and events throughout the year. Residents can also take advantage of the city's excellent schools, library system, and community programs, which offer a wide range of activities and events for people of all ages. Whether you're interested in outdoor recreation, fine dining, or cultural events, New Lenox has something to offer for everyone to enjoy. 
Lincoln-Way Realty is a trusted and experienced real estate agency that can help both buyers and sellers in New Lenox, Illinois!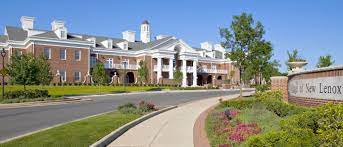 Discover Your Dream Home in New Lenox, IL with the Help of Lincoln-Way Realty
Team Siwinski from Lincoln-Way Realty is committed to delivering an unparalleled real estate experience for buyers and sellers in New Lenox, Illinois. With years of experience in the local market, their team of dedicated agents understands the unique needs and preferences of their clients, and works tirelessly to provide personalized support and guidance throughout the entire buying or selling process. From identifying the perfect home to negotiating the best possible deal, Team Siwinski is there every step of the way to ensure a smooth and stress-free transaction.
One of the key benefits of working with Lincoln-Way Realty is their flat listing fee of $2,500 for all sellers. This competitive fee is significantly lower than the industry average, and ensures that sellers can maximize their profits without sacrificing quality service and support. Team Siwinski employs a range of effective strategies to ensure that your property is visible to potential buyers, and works diligently to identify and connect with qualified buyers who are interested in your property. With Lincoln-Way Realty, you can trust that you're in good hands, and that your real estate goals will be achieved with ease and confidence.
Selling Your Home in New Lenox, IL? Choose Lincoln-Way Realty
If you're ready to embark on your real estate adventure in New Lenox, Illinois, there's no better partner than Lincoln-Way Realty. Contact us today to schedule a consultation and learn more about how we can help you navigate the complex world of real estate and achieve your goals. Let us show you why we're the trusted choice for buyers and sellers in New Lenox, Illinois!